---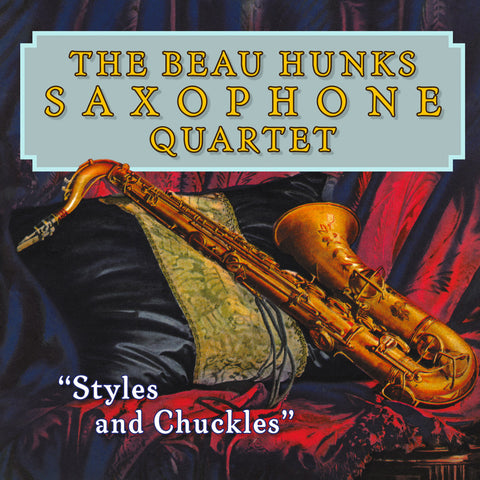 The Beau Hunks Saxophone Quartet - Styles and Chuckles - Digital Download
Basta Music
---
Basta 3091952 | Released 2010.
The Dutch documentary orchestra The Beau Hunks knows many forms. Initially founded as a 30s big band to perform and revive the Hal Roach Studios music, later on many projects with varying settings followed.
One of those settings is 'The Beau Hunks Saxophone Soctette': a 13-headed ensemble built around saxophones and related instruments. On their first album, 'Saxophone Socette' (Basta 3090892) one can already hear a few pieces for a smaller ensemble, a quartet formation. Now that quartet setting is what this new album 'Styles and Chuckles' is all about.
The album covers the quartet repertoire collected the past 15 years by Soctette-initiator Robert Veen: "It has become a true time travel, covering around 150 years. Jazz from the 60's followed by semi-classical composition from the mid 19th century. Marses and novelties as brought by the Six Brown Brothers at the start of the Roarin'Twenties, Swedish folksongs, as well as evergreens from the American Songbook. On top of that there's a true suite of Amsterdam folksongs." All these compositions are performed in surprising arrangements by the 4 quartet members: Ronald Jansen Heijtmajer, Leo van Oostrom, Sebastian Ohm and Robert Veen.
Get this album directly from us as a Digital Download: you will then receive the album in high quality mp3s (320 kbps). Or listen on Spotify:
---
More from this collection