---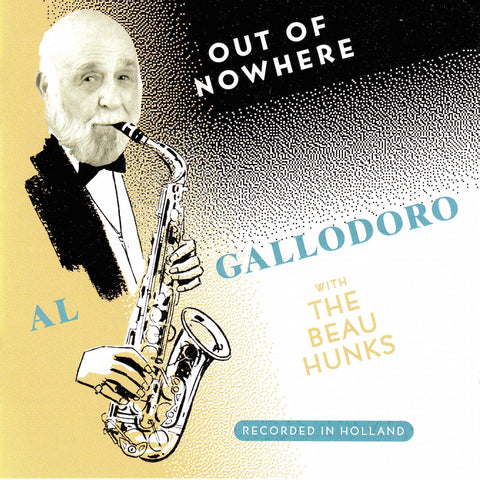 Al Gallodoro with The Beau Hunks - Out of Nowhere - Compact Disc
Basta Music
---
This is the first studio album from saxophone legend Al Gallodoro in 40 years. Gallodoro played first alto in the original Paul Whiteman Soc-tette, and his distinctive work was heard on countless albums over many decades. Over a lengthy and prestigious jazz career, Gallodoro has also performed and recorded with entertainer Rudy Vallee, composer George Gershwin, and with conductors Toscanini and Stokowski.
The idea for this album originated when Beau Hunks saxophonist Robert Veen met Gallodoro in the Netherlands. Veen was unaware of Gallodoro's legacy, but his curiosity led him to research the man. As Veen read music history books and listened to Al's performance on records, he realized that Gallodoro was an incredible talent, and -- historically, at least -- an overlooked one.
Gallodoro returned to Holland, and was invited to attend a Beau Hunks concert. After relishing the band's performance with great enthusiasm, he 
announced his determination to record a new album backed by The Beau Hunks. Gallodoro came back to Holland for the sessions in early 1999. The 
repertoire consisted of early 20th century standards, a practice for which the Beau Hunks have gained a worldwide reputation as preservationists. 
Favorites by Hoagy Carmichael, the Gershwins, Jimmy Dorsey and Eddy DeLange were included, along with such timeless favorites as "Harlem Nocturne," "Smoke Rings," and "Struttin' With Some Barbecue." Each of these tunes were selected because they have personal significance to Gallodoro's life and career.
As always when the Beau Hunks are involved, presenting music from a bygone era is more than an exercise in nostalgia. They prove the enduring appeal of forgotten music from a previous age. And they provide a framework in which Al Gallodoro, too, stands the test of time.
---
More from this collection