---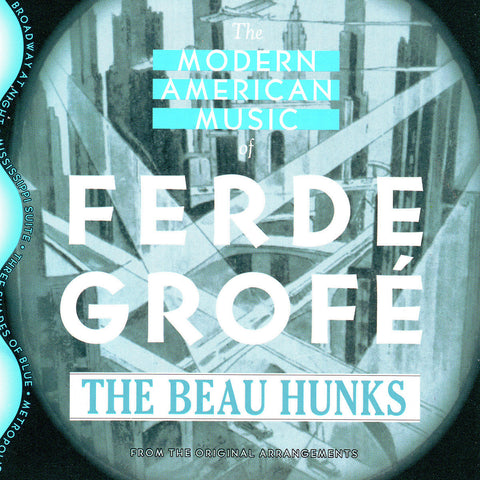 The Beau Hunks - Modern American Music of Ferde Grofe - Digital Download
Basta Music
---
Basta 3090832 | Released 1998.
Ferde Grofé's unique "symphonic jazz" pieces were written for Paul Whiteman's legendary dance band between 1924 and 1931. Grofé (b. 1892, New York) later re-scored most of these works for symphony orchestra. The original Whiteman versions hadn't been performed since the 1930s. Until now!
 
Grofé joined Whiteman in 1917 as pianist, and remained with the bandleader for 15 years as pianist, assistant conductor, arranger, and librarian. He toured Europe with the Whiteman orchestra in 1923, and in 1924 had his first big break when he orchestrated Gershwin's Rhapsody in Blue, a collaboration that brought immediate notice.

Grofé then began composing original works, including his early tone-poem Broadway at Night. His works Metropolis, Blue Fantasy in E Flat, Mississippi Suite and Three Shades of Blue reflect his prescient development of the emerging symphonic jazz idiom. His life experiences and social observations inspired such compositions as Symphony in Steel, Tabloid Suite, Broadway at
Night, Henry Ford, Knute Rockne, and Death Valley Suite. His best-known work is arguably The Grand Canyon Suite, long a worldwide standard in the symphonic repertoire. 
 
Using the original scores and parts from the Library of Congress and the Whiteman Archives at Williams College, Gert-Jan Blom reconstructed these works for the Holland-based Beau Hunks Orchestra (who had previously revived LeRoy Shield's film music for Hal Roach comedies).
 
Using period instruments and overhead mikes, the 35-piece Beau Hunks, conducted by Jan Stulen, recreate the sound of the original live performances.
Get the album directly from us as a Digital Download: you will then receive the album in high quality mp3s (320 kbps).
Or listen on Spotify:
---
More from this collection