---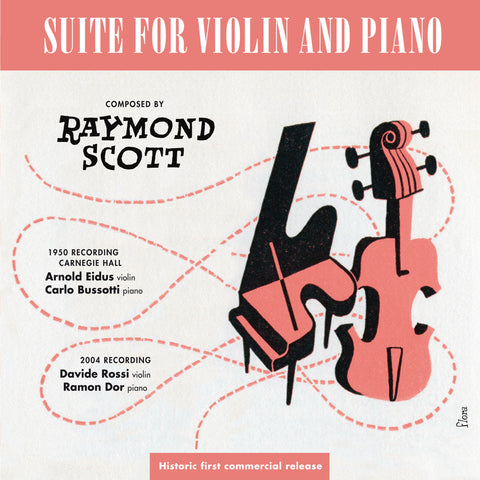 Raymond Scott - Suite for Violin and Piano - Digital Download
Basta Music
---
Basta 3093172 - Released 2012
The same daredevil who gave the world "The Toy Trumpet" and "Powerhouse" composed this exquisitely crafted classical jewel. True, Scott was a 1931 Juilliard grad, but the closest his prior compositions had inched towards the classics were jazzed-up reinventions of Mozart, Verdi, and Schubert.
The five-movement work was publicly performed just once, at Carnegie Hall in 1950, by renowned violinist Arnold Eidus and pianist Carlo Bussotti. The work was then recorded by Eidus and Bussotti, under the supervision of the composer. However, Scott did not release it commercially for reasons historically unknown.
In 2004, after Scott's widow, Mitzi, discovered the score at home, a new recording was produced by Beau Hunks Orchestra leader Gert-Jan Blom in the Netherlands, featuring violinist Davide Rossi and pianist Ramon Dor.
The two versions are now coupled on this 2012 Basta release. Get the album directly from us. You will receive high quality mp3s (320 kbps) from us. Or listen for free on Spotify:
---
More from this collection