---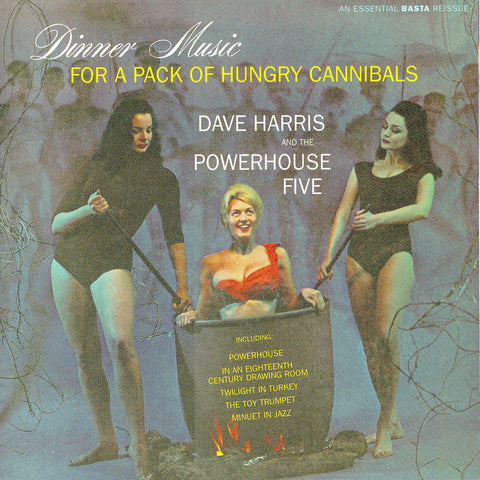 Dave Harris and The Powerhouse Five - Dinner Music for a.... - Digital Download
Basta Music
---
Basta 3091892 - 2008 reissue
Dave Harris played tenor sax in Raymond Scott's legendary late 1930s six-man "Quintette." Over a long career as a sought-after session musician in New York and L.A., Harris (1913-2002) released only one record as a bandleader. That was DINNER MUSIC FOR A PACK OF HUNGRY CANNIBALS in 1958, and it was a tribute to his old boss, for whom he held deep respect.
Harris and the Powerhouse Five recaptured the manic elegance and rhythmic wit of twelve classic Scott tunes. Nostalgia was the inspiration, but sharp musicianship and a celebratory gusto mark this album as a missing link in the Scott legacy. 
When Raymond Scott organized his Quintette, he recruited CBS Radio Orchestra compatriot Harris. The group was short-lived--in 1939, Scott expanded the group into a swing orchestra. However, the original RSQ created a sensation during its brief existence, and left a lasting impact on music history. Scott composed "portraits in music," programmatic novelties with eccentric titles like "War Dance for Wooden Indians," "Reckless Night on Board an Ocean Liner," and "In an 18th Century Drawing Room." A dozen tunes from this group's repertoire were later adapted by Warner Bros. music director Carl Stalling in hundreds of classic Looney Tunes and Merrie Melodies cartoons. Thus was the RSQ's legacy--quite apart from the bandleader's own efforts--preserved for future generations. One title, "Powerhouse," has become a staple of cartoon fare, having been used in The Simpsons, Ren & Stimpy, and Animaniacs, as well as in 40 anarchic WB shorts and several major motion pictures.
In addition to leading a succession of orchestras, Scott composed a Broadway musical in 1946, conducted orchestra on TV's Your Hit Parade in the 1950s, and was a pioneer in electronic music development. But in late-life interviews, he professed that his 1937-39 Quintette was his favorite band. That opinion was doubtless shared by Harris, who always spoke fondly of working under Scott. Such was Harris's affection for this band that in 1958 he organized a sextet, called his sidemen the Powerhouse Five, and recorded an album of RSQ favorites in modern high fidelity. After the RSQ, Harris remained with Scott's first swing band, then compiled an impressive resume as a session player on radio and TV, and in the recording studio. In a career that extended into the 1970s, he worked with Billie Holiday, Gene Krupa, Eddie Cantor, Mickey Katz, Stan Webb, Russ Case, Bob Haggart and countless others. As a director with a musical pedigree, Harris, on Dinner Music for a Pack of Hungry Cannibals, maintains the high standards set by his old boss, recapturing the spunk, energy, and humor of the original RSQ. While there's an obvious element of nostalgia at play, don't underestimate the joyfulness and craftsmanship of these performances.
Get the album directly from us as a Digital Download. You will receive the album in high quality mp3s (320 kbps).
---
More from this collection