---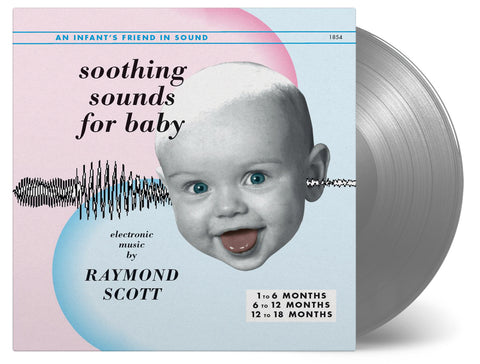 Raymond Scott - Soothing Sounds for Baby - 3-Vinyl set - 2017
Basta Music
---
Basta MOVLP1854 | Release 2017.
March 2017 release
180 GRAM AUDIOPHILE VINYL
INCLUDES INSERT / FREE DOWNLOAD
LIMITED EDITION OF 1.000 NUMBERED COPIES ON SILVER VINYL
American composer Raymond Scott (1908-1994) had a long career as an innovator in the field of music. He formed the Raymond Scott Quintette in the 1930s, writing jazz novelties like "Powerhouse" and "Dinner Music for a Pack of Cannibals," which are familiar to every earthling from their use in Warner Bros. cartoons. Though not composed specifically for cartoons, Scott's music has also been used in The Ren & Stimpy Show, The Simpsons, Animaniacs, and various films. Scott had a big band during the 1940s, and led the orchestra on TV's Your Hit Parade from 1950-1957.
Along the way, Scott invented electronic instruments and developed pioneering studio techniques. He recorded Soothing Sounds for Baby in 1963 using electronic devices such as the Ondioline, homemade rhythm and tone generators, and tape echo. This series of "aural toys" was designed for babies in three age groups (1-6 months, 6-12 months, and 12-18 months). The simple rhythms and melodies were intended to be "pleasantly stimulating," while providing a "quieting" atmosphere of relaxation, warmth, and contentment.
The original releases did not generate much interest in 1963, but in hindsight they are the undiscovered roots of ambient minimalism, predating works by Eno, Fripp, Steve Reich, and Philip Glass. These reissues, carefully remastered from the original tapes, were lovingly restored and include an informative insert by Raymond Scott archivist Irwin Chusid.
The Soothing Sounds For Baby series were pressed in limited quantities and have been out of print for almost over a decade. Due to high demand, Music On Vinyl in cooperation with Basta Music pressed a limited edition of 1.000 copies on Silver coloured vinyl. The 3 records are housed in a thick cardboard jacket and the package includes a download coupon containing all the tracks of the albums + an insert with credits and detailed information about this extraordinary release.
"Astoundingly ahead-of-their-time examples of inspired and impeccably recorded electronic music. Predating by more than a decade such innovators as Brian Eno and Kraftwerk, Scott's work exhibits impressive sophistication, both conceptually and in terms of the performances."
--Paul Verna, Billboard
"[Scott's] endlessly pinwheeling, trance-inducing grooves were far ahead of their time: we suspect that more than a few techno artists heard these records in their cradles, and though they're playful, pretty and simple, they have a depth and peculiarity that prefigures minimalism as well."
--CMJ Music Report
"Sounds like Kraftwerk for the kiddies; for adults, it can function as hip ambient music... a major find for Raymond Scott fans and for those ambient/drone fans interested in precursors to Eno and Neu."
--E-Pulse! (Tower Records on-line)
"This once-neglected rarity...should be welcomed by fans of esoterica and hardcore electronica alike. Far from being soothing, Scott's electronic lullabies are often skull-splitting, a mixture of high frequency easy listening and sonic space-pop that, when cranked up, would keep not only the baby awake and bawling, but half the neighborhood, too. Beware, warped genius at work."
--Edwin Pouncey, Vox (UK)
---
More from this collection