---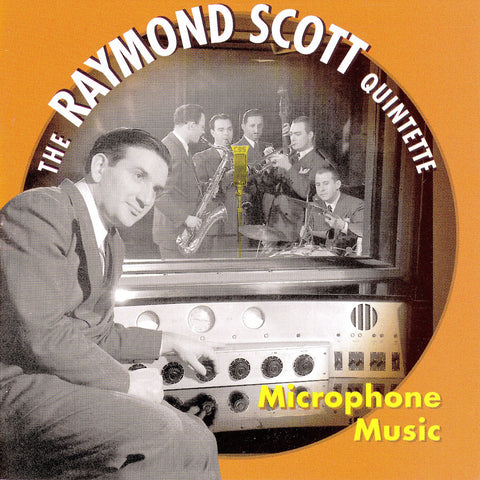 Raymond Scott Quintette - Microphone Music - Digital Download
Basta Music
---
The title refers to Scott's emphasis on the microphone as a "seventh member" of his legendary six-man Quintette, and the mic's importance in helping Scott shape the recorded sound of his ensembles. The 42-track compilation features unreleased titles, radio performances, first-rate rehearsals, and out of print gems by the Raymond Scott Quintette, recorded between 1937 and 1939. The collection was mastered from discs preserved in the Scott archives. It includes the first EVER release of the following Scott recordings:
A Little Bit of Rigoletto.* 
The Girl with the Light Blue Hair.* 
The Happy Farmer.* 
Dead End Blues.* 
Egyptian Barn Dance.* 
Harlem Hillbilly.* 
Hypnotist in Hawaii.* 
Microphone Music.* 
Pretty Petticoat.* 
Square.Dance.for.Eight.Egyptian.Mummies.* 
Suicide Cliff.* 
Swing, Swing Mother-in-Law.* 
The Quintette Goes to a Dance.* 
Turkish Mish-Mush.* 
Yesterday's Ice Cubes.*
...as well as spirited performances of a few non-Scott compositions (e.g., "Bugle Call Rag"* & "Brass Buttons and Epaulettes"*). The compilation also includes remastered transfers of RSQ radio and rehearsal recordings originally released in 1991 on the now out of print Stash Records CD ("The Raymond Scott Project") and reprints of late 1930s newspaper and magazine articles about Scott and his pioneering music and studio engineering.
Produced by Irwin Chusid. 
Order this album directly from us, as Digital Download, and receive the album in high quality mp3s (320 kbps). Or listen for free on Spotify:
---
More from this collection