---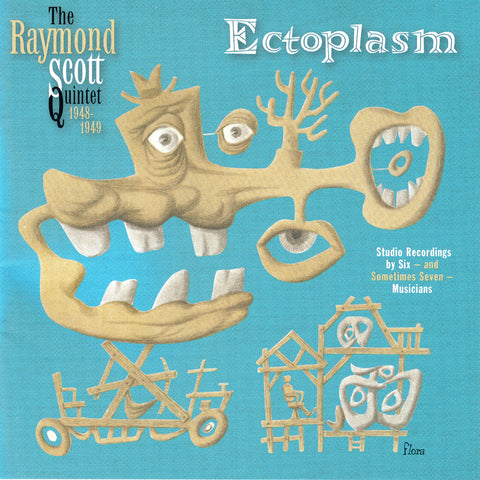 Raymond Scott Quintet - Ectoplasm - Digital Download
Basta Music
---
Ectoplasm is the first-ever album presenting Scott's second Quintet, which recorded in 1948-49. Like its groundbreaking 1937-39 predecessor chronicled on 2003's Microphone Music, this "quintet" had six members, but unlike the original RSQ, this band didn't create music associated with cartoons.
Although the 1948-49 band sounds like quintessential Raymond Scott, it did not resort to a nostalgic aping of the first RSQ. The usual Scott trademarks abound: wit, sophistication, and a touch of eccentricity. Like the first, the second RSQ is complex and hyperactive, with an undercurrent of wry mischief, befitting the band's namesake. Both RSQ's were known for swirling horns, muted trumpet, and daredevil tempos. The style could be termed "parlor jazz," or "chamber swing"—breezy and cerebral. 
As a composer, Scott moved away from his quirky novelties of the late 1930s and progressed in a more challenging direction. However, he still liked painting "portraits in music." The unusual album title refers to a spooky Scott work evoking a "voice from the beyond." Other Scott originals on the album are "Street Corner in Paris," "Snake Woman," "Bird Life in the Bronx," "Good Listening," "Curley Cue," and "Question Mark." In addition, Scott goes lunar with his visionary opus "Dedicatory Piece to the Crew and Passengers of the First Experimental Rocket Express to the Moon."
The album includes jazzed-up arrangements of the light classics "Humoresque" and "Song of India," and over a dozen Tin Pan Alley standards which clock in at less than two minutes each. These miniatures — including such standards as "Blue Skies," "I'll See You in My Dreams," and "How High the Moon" — were intended as radio program interludes. They demonstrate Scott's skill as an editor, distilling the essence of these songs in compressed form. Tunes like "Honeysuckle Rose," and "You're the Cream in My Coffee" were dolled up to affirm Scott's musical identity, with the melodies respected. Scott seemed to prefer jazz in service to composition rather than the other way around. That said, he took his share of liberties as a composer by integrating original intros and bridges that re-invent these relics with an unmistakable Scott spirit.
Order the album directly from us; you will receive high quality mp3s (320 kbps). Or listen for to the album on Spotify:
---
More from this collection