---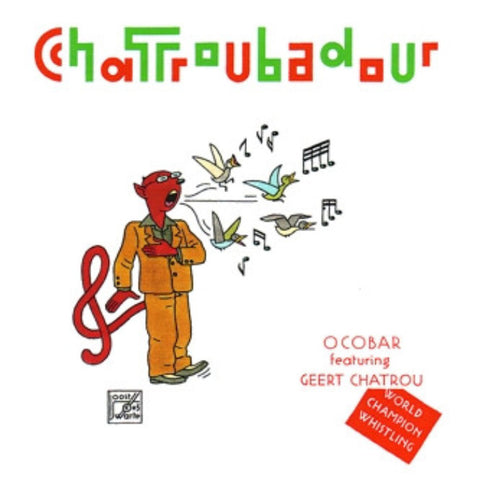 Ocobar feat. Geert Chatrou - Chatroubadour - Digital Download
Basta Music
---
Basta 3091492
First release 2005
Ocobar with Geert Chatrou, World Champion Whistler
 
Chatroubadour is Ocobar's second album, this time featuring Geert Chatrou, the 2004 World Champion Whistler. Ocobar's songs were especially written to fit Chatrou's virtuoso whistling.
 
Whistling sounds easy, but when you hear Chatrou, you'll recognize the difference between amateur and maestro. As a child, Geert whistled constantly, a habit he picked up from his father, who displayed extraordinary whistling ability. Encouraged by his sister-in-law, in April 2004 Geert entered the World Championship in the United States. It was a tight competition. In the final round, Geert whistled the American national anthem with style, grace and virtuosity, stunning the audience. He received
a standing ovation and was awarded the World Champion trophy. He was overwhelmed by the victory. 
Still a bit dizzy over the outcome, he arrived back in the Netherlands, where at the airport a reporter sought his reaction. "Well," shrugged Geert, "Actually I think my father is better."
 
The album features special guest appearances by Fay Lovsky (on voice, musical saw, and theremin) and saxophonist Jos Valster. The album also contains a remix by ZUCO103's DJ Git Hyper. 
Artwork by noted illustrator-designer Joost Swarte.
Order the album directly from us; The download includes the album in high quality (320kbps) mp3's.
Listen to the album for free on Spotify:
You can also get the album from iTunes.
---
More from this collection