---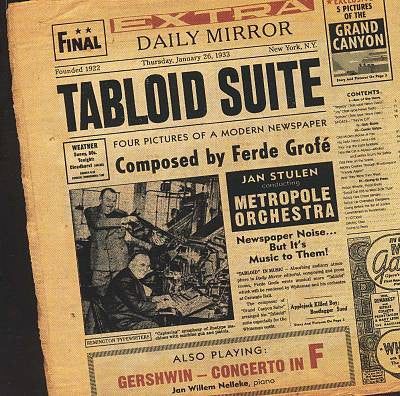 Metropole Orchestra - Tabloid Suite - Digital Download
Basta Music
---
Basta 3091192
First released 2002
The Metropole Orkest conducted by Jan Stulen

THE TABLOID SUITE: Four Pictures of a Modern Newspaper
 
THE GRAND CANYON SUITE: Five Pictures of the Grand Canyon

CONCERTO IN F (Gershwin)

Holland's Metropole Orkest continues their series of orchestral tributes to great composers of the 20th Century, having already recorded works by Raymond Scott, Leroy Shield, Roger Roger and Dennis Farnon.

This double album contains two complete suites composed by Ferde Grofe and one composed by Gershwin and arranged by Grofe. It features Grofe's rarely heard "Tabloid Suite: Four Pictures of a Modern Newspaper" (1932), and his more popular "Five Pictures of the Grand Canyon" (1931). It also features Gershwin's "Concerto in F," which was scored by Grofe for the Paul Whiteman Orchestra in 1928. 

Each suite features Grofe's skillful use of jazz motifs in symphonic settings.  These works were performed from the original sheet music, so the music is played the way it was meant to be heard, in full length, and in full detail. The complete version of the "Grand  Canyon Suite" had not been performed as written for almost 70 years at the time of this recording. "The Tabloid Suite," in four movements, evokes the busy razzmatazz of a big-city newspaper, including a typewriter in the opening movement and police sirens in the final passages.
Order the album directly from us; The download includes the album in high quality (320kbps) mp3's.
Listen to the album for free on Spotify:
---
More from this collection