---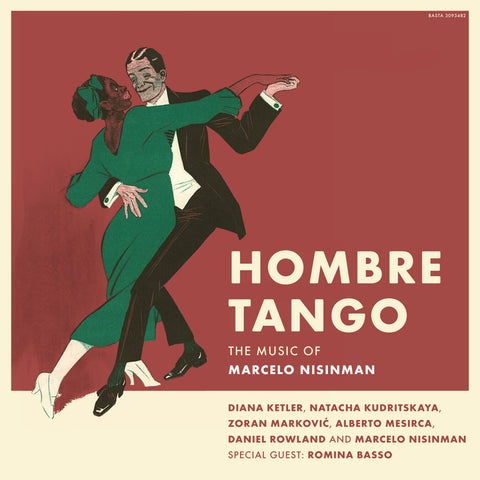 Hombre Tango - The Music of Marcelo Nisinman - Compact Disc
Basta Music
---
Basta 3093482 - release March 2, 2018
HOMBRE TANGO – the Music of Marcelo Nisinman
Almost ten years have gone by since Nisinman started writing a series of works which could be considered also to be musical portraits.
These are works dedicated to the musicians with whom Nisinman regularly collaborates and who inspired him to write these tangos.
The idea for and the engine behind this project came from his friend Alberto Mesirca, to whom he dedicates "Alberto's Tango for Solo Guitar". "Diana's Tango" for piano is dedicated to Diana Ketler; the new version of "La Cumparsita" to Natacha Kudritskaya, and "Daniel's Tango" to Daniel Rowland.
In this recording you will find also a few Baroque compositions, by Buxtehude, Bach and Purcell. Nisinman arranged "Music for a While" especially for Romina Basso.
"Hereticus" is a tango, probably the first one which is made of just seven notes. In each of the seven movements of which it comprises, Nisinman added notes progressively one by one, thus creating an accumulation.
TRACKLISTING       
Hombre Tango                        
Music for a While
Daniel's Tango
In Dulci Jubilo
La Cumparsita
Denket dem Herrn, denn er ist so freundlich
Ciudad Triste
Alberto's Tango
Hereticus
Diana's Tango
Patético
Homenaje a un Ángel
Total 75 minutes
---
More from this collection