---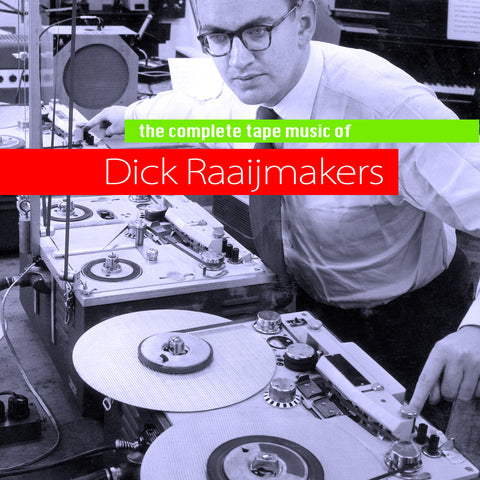 Dick Raaijmakers - Complete Tape Music - Digital Download
Basta Music
---
In 1998, the The complete tape music of Dick Raaijmakers was published by Stichting Donemus under the label NEAR (Dutch electro-acoustic repertoire). This large and ambitious project was joined by another CD-box, The complete tape music of Jan Boerman (CV-NEAR 4/5/6/7/8), both elaborately documented and carefully edited by René Uijlenhoet in close collaboration with the composers. 
The CD series continued with a 6 CD-box with electroacousic music of Ton Bruynèl, Looking Ears complete (CV-NEAR 12), and CDs with compositions of Kees Tazelaar (CV-NEAR 13) and René Uijlenhoet (CV-NEAR 14).
When The complete tape music of Dick Raaijmakers ran out of print, Donemus was happy that Basta Music was interested to produce a second edition, and offered full co-operation. It fits in well with Basta's CD projects Popular Electronics: Early Dutch electronic music from Philips research laboratories 1956-1963 and STRP1: Reactions to the music of Dick Raaijmakers.
Moreover, Basta Music and NEAR/Donemus will continue the cooperation with other Dutch electro-acoustic music CD projects in the future.
The work list does not go beyond 1997, and we decided to leave it that way. However, Dick Raaijmakers made some musical-theatrical compositions after that time, such as Proefneming met een tabakspijp (1998), De weergave (2000), Konzert für...
Order this set as a download directly from us - you will receive high quality mp3s (320kbps). Or listen for free on Spotify:
---
More from this collection