---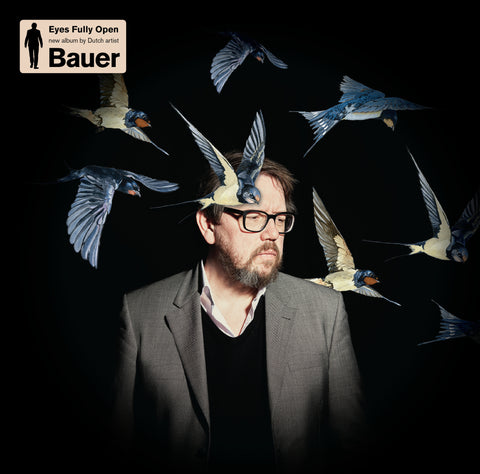 Bauer - Eyes Fully Open - 24b WAV download
Basta Music
---
October 2016
New album from Bauer after 10 years: "Eyes Fully Open"
If there was ever going to be a new Bauer album, then it had to be *the* Bauer album. This was the approach taken by Berend Dubbe, the man who has been at the wheel since Bauer's debut album (1999's "On the Move").
With "Eyes Fully Open," this lengthy process has reached its apotheosis. The 10 songs are full of references to early Hollywood and TV-soundtracks, the orchestral pop of Scott Walker, and the progressive music of the 1970s, while still managing unprecedented modernity.
Bauer holds a unique place in the Dutch music landscape.
Thanks to his exotic sampling skills on "On the Move," Dubbe was an underdog hero for many home recording artists of the early 2000s. Fast-forwarding to 2016, the listener is met with a full-fledged Pop Pundit. There's no room for irony or low-fi gimmicks on this album, which consists of one strictly heartfelt composition after another. Never before has a Bauer album sounded so vulnerable yet grandiose at the same time, a new phase ushered in with help from several special guests, including his former bandmates, Carol van Dyk and Peter Visser (Bettie Serveert).
For the past ten years, Dubbe has worked on many projects, including composing for films, collaborating with the Metropole Orchestra, singing in well-regarded Sinatra and Beach Boys tribute concerts, all alongside his long-standing career as the voice of Dutch television station Net5.
Bringing the new album to life has been a time-consuming, intensive undertaking, but as Bauer sings in "The Alchemist," the first single of the album: "ALL WILL BE FINE IN THE LONG RUN."
"Eyes Fully Open" arrives 7 October, 2016 on vinyl, CD, and all digital media through Basta Music.
On 13 October, a live show with full band is set to celebrate the release of the record in the main hall at Paradiso Noord / Tolhuistuin, Amsterdam. Get tickets for the show at www.bauertheartist.com.
This is to order the album as a download, in 24bit WAV files. If you prefer to order the CD instead, please click here.
---
More from this collection