---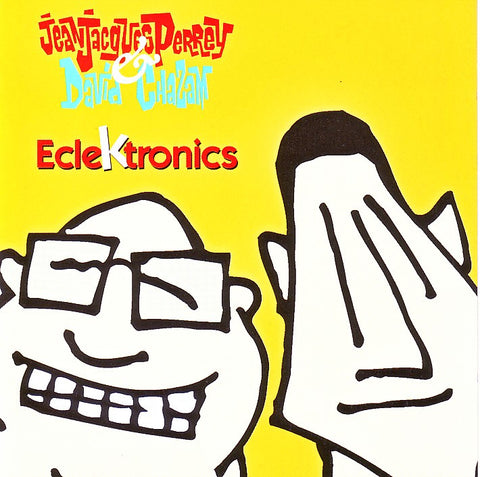 Jean Jacques Perrey - Eclektronics - Digital Download
Basta Music
---
Basta 3091132 - ECLEKTRONICS 
Jean Jacques Perrey & David Chazam
The name Jean-Jacques Perrey should be immediately familiar to electronic music fans, particularly those who are aware of the Moog synthesizer's golden age of the '60s and '70s, when Moog records were plentiful in music shops. But unlike most of those LPs -- which usually covered other artists' tunes from the Beatles to Bacharach to Bach and beyond -- Perrey's albums were mostly filled with catchy, incredibly happy original tunes showcasing the man's wacky musical sense of humor.
From 1966 to 1970, Perrey released four LPs for Vanguard -- two with arranger Gershon Kingsley, and two by himself as a solo artist. In addition
to their records for Vanguard, during the early 60s Perrey and Kingsley created commercials for radio and television. Around 1970, Perrey's contract
with Vanguard ended, and he returned to his native France.
He recorded six LPs of electronic background music for the French Montparnasse 2000 label; these discs are now very rare and immensely collectible. For the next 23 years, Perrey lived in virtual obscurity in
France. It seemed that the musical world had forgotten the inventive Frenchman.
But Perrey's life out of the public eye changed in 1993 when RE/Search Publications produced its first Incredibly Strange Music book. A new generation of young musicians and modern music lovers were discovering Perrey's amazing musical legacy. Many artists began sampling his records, and dance remix whiz Fatboy Slim even had an international hit with his souped-up dance remix of Perrey's tune "E.V.A.". It was through the RE/Search book that a young French musician named David Chazam became
fascinated with Perrey's music.
Chazam sent a cassette of his own electronic music to Perrey, and proposed that they collaborate on an album. Perrey replied simply: "When, where and
how?" Perrey and Chazam teamed up in the studio. J-J brought prepared tape loops (digitally loaded into his Kurzweil synthesizer/sampler), but no actual
tunes. Instead, he had what he called "several cine-reels in my head" -- little movies, imaginary pictures and conceptual ideas that Perrey wanted to
orchestrate. He described the feel of the music needed, and Chazam came up with appropriate rhythm tracks.
David Chazam explained, "This album was produced by a person who loves Jean Jacques' music -- me! I wanted to present his music with some modern
technical tricks, but I also tried to recreate the classic analog sound of his Vanguard recordings. I wanted to help him create an album that I hoped would be timeless, and wouldn't sound dated many years from now."
Jean Jacques Perrey's music for Eclektronics is a perfect blend of the style of his classic '60s recordings blended with more modern, groove-oriented samples and production techniques.