---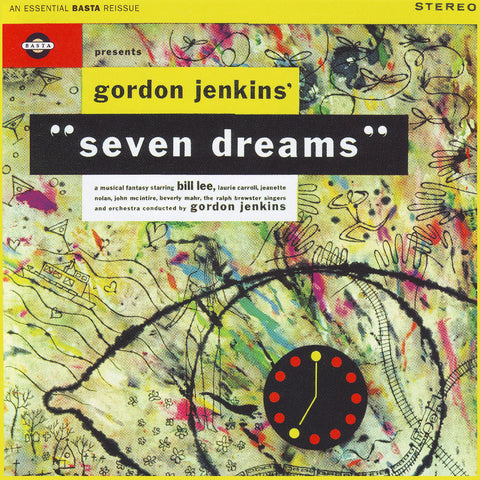 Gordon Jenkins - Seven Dreams - Digital Download
Basta Music
---
Basta 3091902 | Rereleased 2007.
Gordon Jenkins (1910-1984) was a renaissance music figure: composer, arranger, conductor, and musician; recording artist, label executive, producer, talent scout, and hitmaker. He worked with such legends as Frank Sinatra, Louis Armstrong, Nat "King" Cole, and Harry Nilsson. 
Yet one resume entry has remained quietly entombed: the 1953 concept album Seven Dreams. An extended philosophical oratorio, the work is both powerful and strikingly idiosyncratic. It is also immensely entertaining, and its wry observations are timeless. This Basta Essential Reissue contains the entire 1953 album as it was originally released.
With Seven Dreams, Jenkins arguably emerged as the godfather of what became later known as "concept albums," a program of musical compositions thematically linked in storytelling fashion on a long-playing record. While music-cum-plot defines Broadway and occasionally Hollywood (as well as opera), original cast albums are audio derivatives of theatrical or cinematic productions. Seven Dreams existed on a 12" vinyl platter and--other than on the composer's written score--nowhere else.
Seven Dreams was radio theater on record--seven symphonic playlets composed, authored, arranged, and conducted by Jenkins. In contrast to the gloss and frothiness of the composer's earlier Manhattan Tower suite, Seven Dreams is haunting, in parts even disturbing. Where the former gazes outward at the glittering spires of Gotham, the latter glares inward at the dark night of the soul. Seven Dreams explores Big Issues sound-staged as cower-under-the-blanket hallucinations, segueing from fantasy to fantasy, and sometimes veering into confusion and surrealism. The libretto is fraught with cynicism (blustery politicians; cocktail party braggadocio), existential emptiness (a cemetery caretaker; atheism), and sneering social satire. The seven vignettes are termed "dreams" only because the word "nightmares" in the title was probably deemed a marketing turnoff. Seven Dreams has long been overlooked as a little-referenced entry in the Jenkins discography, overshadowed by a Gibraltar-scale catalog of monumental works. That it has remained a footnote in the Olympian legacy of such an influential figure is an inexplicable historical oversight. On the eve of the Jenkins centennial, behold the work; listen and draw your own conclusions. Seven Dreams is not dreamy, and it won't induce slumber. Its underlying moods may actually interfere with a good night's sleep. Composed, arranged, and conducted by Gordon Jenkins Produced for reissue by Irwin Chusid.
Get the album directly from us as a Digital Download: you will receive the album in high quality mp3s (320 kbps).