---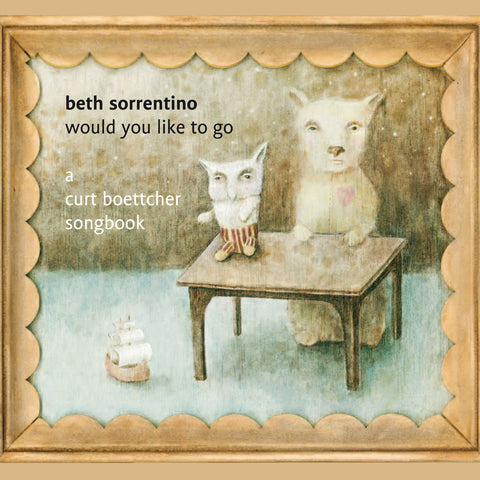 Beth Sorrentino - Would You Like to Go - Compact Disc
Basta Music
---
Singer Beth Sorrentino was born in 1968, the year a now-mostly forgotten musical wizard named Curt Boettcher reached his peak. On her new album, she pays tribute to a musician she never knew, whose work has been largely overlooked. 
Boettcher (pronounced BET-cher) was a songwriter, singer, arranger, and recording studio wizard who specialized in multi-harmony soft rock. He produced the first album by The Association (1966), and arranged their major hit "Along Comes Mary." Curt then formed The Ballroom, whose studio sessions (unreleased for decades) achieved legendary stature among West Coast Sixties Pop cognoscenti. Many Ballroom songs and recordings were later remixed with additional instruments and vocals for Boettcher's two collaborative album masterpieces, The Millennium's Begin and Sagittarius's Present Tense (with Gary Usher), both issued in 1968 on Columbia. The albums sold poorly, but are durable, compelling psychedelic artifacts, as well as forerunners of "Sunshine Pop." 
For a decade Curt was a hustling session contributor, often drifting in and out of the Beach Boys orbit. He appeared as backing singer, musician, producer, or mixer on albums by The Byrds, Chad & Jeremy, Paul Revere & The Raiders, Bruce Johnston, Dennis Wilson, and Emitt Rhodes. He produced several hits for Tommy Roe, including "Hooray for Hazel," as well as dozens of worthy singles by historical footnotes. He released one solo album, There's An Innocent Face (1972, Elektra), but a follow-up, Chicken Little Was Right, was never completed. In 1987 while living in Burbank, Boettcher fell ill, was hospitalized, developed pneumonia, and died at age 43. During his prime, Boettcher was a cult figure. At his death, he was a forgotten cult figure. But Curt created some unforgettable music. 
Beth Sorrentino, who was born the year Begin and Present Tense were released, fell under the Boettcher spell in 2010 when she first heard the magical Millennium album. She proposed recording a collection of songs associated with Curt, with most written or co-written by him. She enlisted her old friend, producer Sean Slade, who had worked with Beth's first band, Suddenly, Tammy!, in the 1990s. (Slade's production credits include Radiohead, Pixies, Warren Zevon, Hole, Lou Reed, Weezer, and others). Sorrentino and Slade crafted an approach that does not attempt to replicate the Boettcher sound, but instead represents a brilliantly idiosyncratic take on the artist's legacy. The arrangements pay homage to Curt's genius for vocal harmony, with Sorrentino's sweet soprano providing all lead and backing voices. Tandyn Almer, who wrote "Along Comes Mary," called Beth's version "one of the best I've heard. Love her phrasing." The album uses very little guitar, and showcases Sorrentino's deft keyboard work on a Mason & Hamlin 1904 upright piano, Mellotron, Wurlitzer piano, Hammond B3, Korg electric piano, and Fender Rhodes. 
Inspiration is best expressed not thru imitation, but thru reinterpretation. Sorrentino didn't copy the original - she built on it.
Album Produced by Sean Slade 
Solicitor and Overseer: Irwin Chusid 
Engineered by Benny Grotto 
Musicians: Beth Sorrentino, Jeremy Moses Curtis, Sean Slade, Irwin Chusid, Benny Grotto 
Order the album directly from us, or listen for free on Spotify:
---
More from this collection